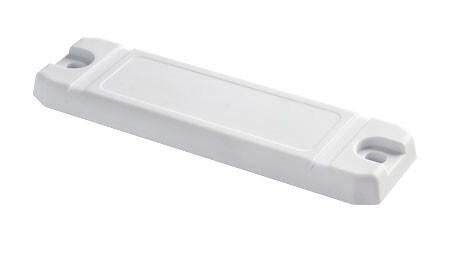 Dual Frequency On-metal RFID Tag was designed with dual frequency use for complex application , which with EM4423/EM4425 chip that combines two functionalities on one single die: UHF & HF Both protocols may share a common, unique ID. Leveraging the IC's unique features.
Dual Frequency Dual Frequency RFID metal Tag RFID Tags can be laser engrave LOGO, TEXT , Numbering or UID/TID permanently,they are ideally shaped for use as industrial tag .
Dual Frequency Metal-mount RFID Tag Specification :
Item No. :
JYL-105dual
Material:
ABS+PC
IC Chip Options:
EM4423
Dimensions:
105.0×30.0mm, Hole: D5.2mmx2
Thickness:
7.5mm
Mounting Methods:
Adhesive, Screw, binding
Operation Temperature:
-25°C to +85°C
Read Range(On Metal) :
(Fix Reader)
Up to 500cm, US ( 902-928MHZ ), On metal
Up to 400cm, EU ( 865-868MHZ ), On metal
Working Environment:
Metal Surfaces
JYL-Tech can customize Dual Frequency Dual Frequency On-metal RFID Tag to meet your unique requirements for chip type, size, programming and materials. Contact us to learn more about JYL-Tech full line of solutions for various On-metal RFID Tags.
Contact Form
We can help you?
Find the RFID product or solution that meets your business needs. Ask us to help you find the right decision.
Share this page