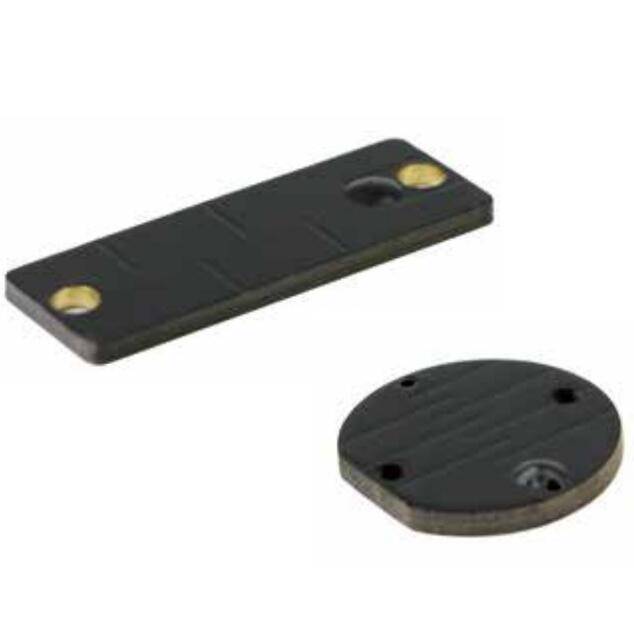 High Temperature On-Metal RFID tag optimized for metal substrates. It can survive high temperatures to 280°С for 50 minutes, 250°С for 150minutes and a rugged encapsulation, this UHF tag is ready for deployment in a variety of applications without sacrificing read range performance.
High Temperature On-Metal RFID UHF tag is an ideal solution for applications where surviving excessive heat in a rugged environment is needed such as: healthcare sterilization processes, manufacturing, and automotive post-paint processes.
UHF High Temperature On-Metal UHF Tag Specification :
Item No. :
JYL-HFHP2019 / JYL-HFHPD4215
Material:
High temperature material PTFE
IC Chip Options:
Alien Higgs-4
Dimensions:
D:20mm, (Hole: D2mmx2) / 42x15mm, (Hole: D4mmx2)
Thickness:
2.1mm without IC Part, 2.8mm with IC Part
Mounting Methods:
Adhesive, Screw
Operation Temperature:
-40°C to +150°C (working 10 hours in 180°С)
Read Range(On Metal) :
(Fix Reader)
Up to 680cm – (US) 902-928MHz, on metal
Up to 700cm – (EU) 865-868MHz, on metal
IC options:
UHF 840-960Mhz :
– Alien Higgs, Monza 3, Monza 4D, Monza 4QT, Monza R6, Monza R6-P, Impinj M730 ,Impinj M750 etc.
JYL-Tech can customize High Temperature On-Metal RFID Tags to meet your unique requirements for chip type, size, programming and materials. Contact us to learn more about JYL-Tech full line of solutions for various On-Metal RFID Tags.
UHF High Temperature On-Metal UHF Tag Datasheet
Contact Form
We can help you?
Find the RFID product or solution that meets your business needs. Ask us to help you find the right decision.
Share this page