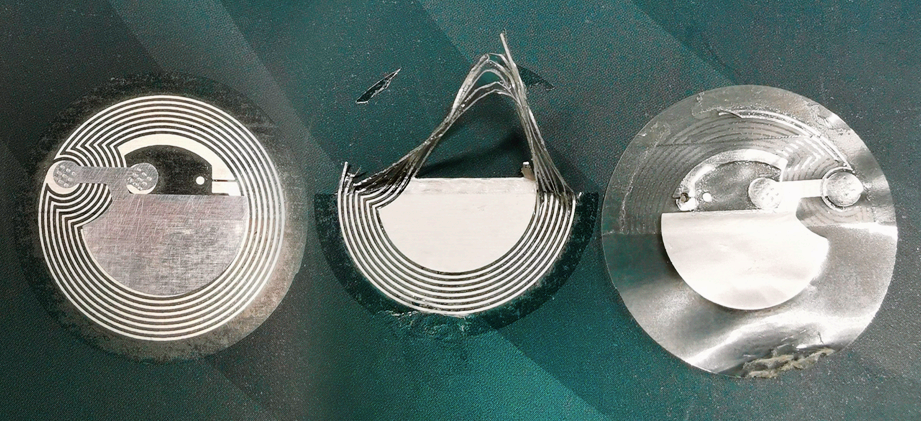 RFID HF/NFC Tamper Evident Fragile Tag is an important type of RFID NFC tag, its aluminum foil antenna breaking strength is much lower than the adhesive ability of adhesive, it has the characteristics that it cannot be completely peeled off and cannot be reused after pasting. RFID NFC Tamper Evident Fragile Tags are processed by printing, die-cutting and other processes to make NFC tamper proof tags or NFC tamper proof stickers, also known as commodity fragile warranty stickers, Product identification etc .
The NFC Tamper Evident Fragile Tag uses special fragile paper and anti-transfer glue, and the tag antenna removes the PET layer, so that the RFID fragile tag cannot be peeled off normally after pasting to achieve the effect of anti-transfer and tear-proof. After it is attached to the item, the antenna will automatically break when its lifted up again, so it plays an anti-counterfeiting role and is mainly used in the field of anti-counterfeiting traceability such as valuables, tobacco and wine. NFC tamper proof tag can effectively prevent heat transfer: the original double-sided antenna coil is etched with high-precision aluminum, compared with printed antenna tags, half-printed and half-aluminum (copper) etched antenna tags, ensuring consistency between products and improving The quality of the label; the distance between aluminum and aluminum in the label is relatively consistent and not easy to break, which ensures a relatively consistent resistivity in the label, and makes the label information transmission, reading and writing stable and fast.
HF/NFC Tamper Evident Fragile Tag features:
Small size, Near Field reading range ;
Easy to tear and anti-tear, with a global single UID ;
Passively activated chip;
Universal tag for all frequency bands, medium and low dielectric constant materials;
High reliability and high security information records;
Strong anti-electromagnetic interference and ability to resist severe temperature changes;
HF/NFC Tamper Evident Fragile Tag Specification :
| | |
| --- | --- |
| Item No.: | JYL-TPD21 |
| Working frequency: | 13.56Mhz |
| IC type: | NXP Ntag213 |
| Protocol: | ISO 14443A |
| Antenna size: | Diameter 21mm |
| Tag size: | Diameter 25/30mm , Square 25*25/30*30mm |
| Antenna: | Aluminum etching |
NFC Tamper Evident Fragile Tags are widely used in high-quality goods such as mobile phones, telephones, computer accessories, automotive electrical appliances, alcohol, medicine, food, cosmetics, and performance tickets.
JYL-Tech can customize NFC tamper proof tag to meet your unique requirements for chip type, size, programming and materials. Contact us to learn more about JYL-Tech full line of solutions for various NFC tamper proof tags .
Contact Form
We can help you?
Find the RFID product or solution that meets your business needs. Ask us to help you find the right decision.