JYL-Tech has developed a variety of RFID waste bin tag to suit different types of litter box sizes and structures as well as working environments. It can be installed inside or outside a trash can. It can be read by an RFID reader which is utilized by the drivers in collection trucks. It aims to improve efficiency, especially if it programmed a unique number associates a garbage cart with an address. The RFID waste bin tag is also a possibility for loyalty and reward programs offered to residents.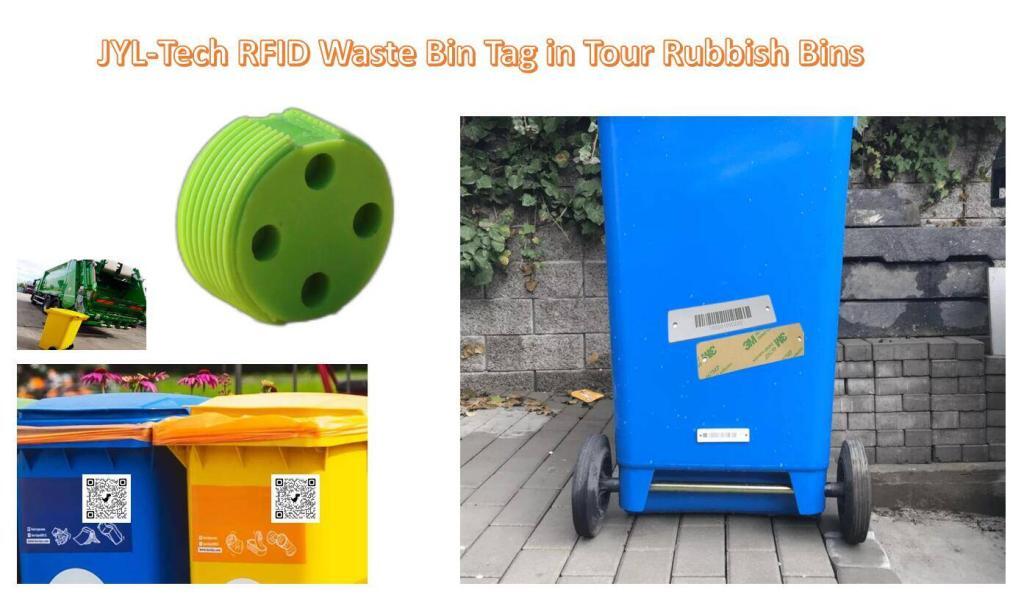 These RFID waste bin tags have a sturdy plastic housing that protects them from moisture, rain, dirt and other environmental conditions. This makes them ideal for waste management solutions. RFID rubbish bin tag types include RFID trash can disposable label, RFID laminated hard labels and durable nylon bin tag. They all have different chip and memory sizes.
Click below RFID waste bin tags for your unique solution :
IC options:
LF 125KHz :
– EM4200, TK4001; T5577; EM4305; Hitag1, Hitag2, Hitag S256, etc
HF 13.56Mhz :
– ISO14443A: MIFARE Classic®, MIFARE® DESFire®, MIFARE Plus®, MIFARE Ultralight®, Fudan FM11RF08, etc.
– ISO18092: NTAG® 213, NTAG® 215, NTAG® 216, Topaz512, etc.
– ISO15693: NXP ICODE® SLIX, TI Tag it HF-I, ST LRI, etc.
UHF 840-960Mhz :
– Alien Higgs, Monza 3, Monza 4D, Monza 4QT, Monza R6, Monza R6-P, Impinj M730 ,Impinj M750 etc.
JYL-Tech can customize RFID waste tag to meet your unique requirements for chip type, size, programming and materials. Contact us to learn more about JYL-Tech full line of solutions for various litter box label products .

Contact Form
We can help you?
Find the RFID product or solution that meets your business needs. Ask us to help you find the right decision.
Share this page