RFID Token Tags are widely used for inventory tracking system or automatic production systems etc. There are abundant size and material options to suitable customer's unique application.
RFID Token Tag is available with a wide range of RFID technologies: from 125KHz low frequency to 13.56MHz high frequency as well as with ultra-high frequency. Thus providing an optimal solution for different RFID applications such as asset tracking, material identification etc. The RFID Tag is weather and waterproof as well as being nonmetal, These RFID Token Tags can also work on metal surface with anti-metal layer on it, also can be attached to goods surface by adhesive layer.
Click below Tags for your unique solution :
RFID Token Craft Option:
Chip programming
Custom Logo: Silkscreen / laser engrave
Numbering / UID: Laser engrave
On Metal: Anti-metal ferrite layer
Adhesive: 3M adhesive layer on backside
Applications of RFID Token:
Enhanced Security and Process Oversight
Effective Asset Monitoring and Tracing
Seamless Device Integration
Efficient Identity Verification
Optimized Inventory Supervision
Token Tags Brochure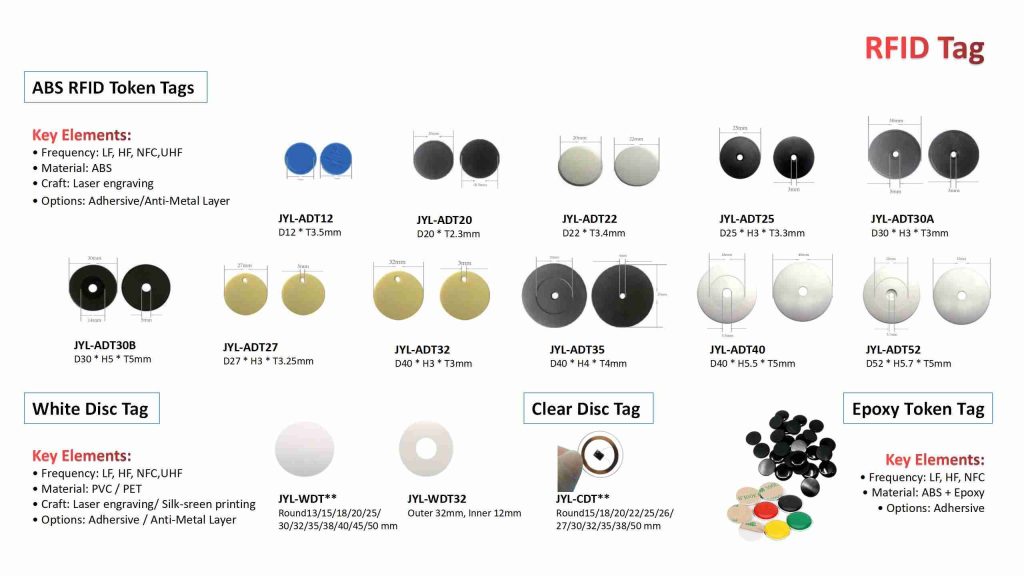 IC options:
LF 125KHz :
– EM4200, TK4001; T5577; EM4305; Hitag1, Hitag2, Hitag S256, etc
HF 13.56Mhz :
– ISO14443A: MIFARE Classic®, MIFARE® DESFire®, MIFARE Plus®, MIFARE Ultralight®, Fudan FM11RF08, etc.
– ISO18092: NTAG® 213, NTAG® 215, NTAG® 216, Topaz512, etc.
– ISO15693: NXP ICODE® SLIX, TI Tag it HF-I, ST LRI, etc.
UHF 840-960Mhz :
– Alien Higgs, Monza 3, Monza 4D, Monza 4QT, Monza R6, Monza R6-P, Impinj M730 ,Impinj M750 etc.
JYL-Tech can customize RFID Token Tags to meet your unique requirements for chip type, size, programming and materials. Contact us to learn more about JYL-Tech full line of solutions for various Token Disc RFID Tags.
Contact Form
We can help you?
Find the RFID product or solution that meets your business needs. Ask us to help you find the right decision.
Share this page