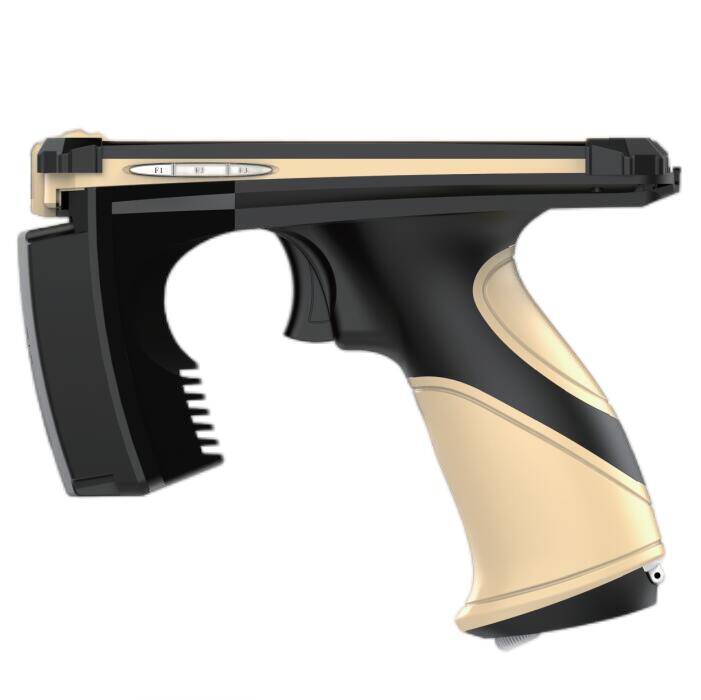 ORCA-50 RAIN UHF RFID Handheld Reader Data Terminal is adopt self-developed module based on Impinj Indy R2000 chip, with excellent stability and extremely strong multi-tag identification performance. It's from the killer whale inspired design, the appearance of dexterous and elegant, simple and well-proportioned, every detail has been repeated scrutiny, sense of proportion to handle properly, to create a very visual tension of the fuselage.
ORCA-50 UHF Handheld Reader Data Terminal withstand the impact of falling to a concrete surface at a height of 2 meters. IP64 protection, can effectively resist dust and splashing liquid.
ORCA-50 UHF Handheld Reader Advantages
High Performance Computing Platform
Powerful hardware configurations to ensure applications like massive data collection, 3D real-time display can be operated smoothly.
Android 6.0
Android 6.0 OS, keep optimizing and updating.
Top Class Materials
Cast Aluminium, PC+ABS (SABIC) body with 1.1mm thickness tempered glass offer excellent strength + heat dissipation + electromagnetic shielding features. Soft material around the handle offers a comfortable grip.
Industrial-grade components + super long life cycle
Industrial-grade and military-grade components ensure stable operation in harsh environments. Over ten years of supply can be offered, which provides guarantee for the long term projects.
Ultra Long Operating Time
Pistol style hot-swappable battery system makes backup battery more convenient to be restored, so that the operating time is unlimited.( extra batteries are available )
High-end UHF RFID Engine
Equipped with self-developed Rodinbell M-2600 module based on Impinj R2000 chip, offering the best performance and excellent multi-tag identification ability in the industry.
Outstanding Industrial Design
The idea was inspired by orca, and each single detail has been well refined. The appearance is compact,elegant and balanced, which makes the product eye-catching and impressive.
Excellent Mechanical Protection
Safety drop height 1.6m. With IP64 protection grade to resist dusts and splashes effectively.
Contact JYL-Tech to learn more about ORCA-50 UHF Handheld Reader Data Terminal . The Orca-50 UHF Handheld Terminal is part of the our textile services linen inventory management solution . Click IOT RFID find more RFID tags fit for UHF Handheld Reader .
Contact Form
We can help you?
Find the RFID product or solution that meets your business needs. Ask us to help you find the right decision.
Share this page