RFID Velcro-band which has a velcro band which its more east to wear and easy to take off.RFID plastic part can be printed in LOGO by silk-screen printing .
RFID Velcro-band have been used for any RFID re-use solution including access control, cashless payments and social media integratio .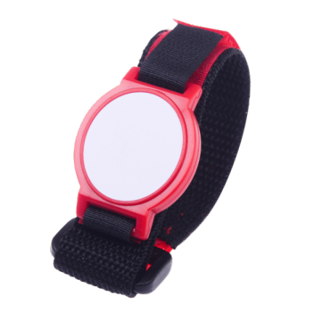 Key Info
– Dial Size: 37*40mm
– Band: 280*20mm
– Velcro Lock : For re-use purpose
Material & Design
– Print LOGO or Laser engraved UID on dial plate .
IC options:
LF 125KHz :
– EM4200, TK4001; T5577; EM4305; Hitag1, Hitag2, Hitag S256, etc
HF 13.56Mhz :
– ISO14443A: MIFARE Classic®, MIFARE® DESFire®, MIFARE Plus®, MIFARE Ultralight®, Fudan FM11RF08, etc.
– ISO18092: NTAG® 213, NTAG® 215, NTAG® 216, Topaz512, etc.
– ISO15693: NXP ICODE® SLIX, TI Tag it HF-I, ST LRI, etc.
Please contact JYL-Tech to customize RFID Velcro-band to meet your unique requirements for chip type, size, programming and materials for People indentification.
Contact Form
We can help you?
Find the RFID product or solution that meets your business needs. Ask us to help you find the right decision.
Share this page