RFID (Radio Frequency Identification) is a powerful technology that is increasingly used to identify, track and obtain traceability of various items. RFID has many applications and can be used in countless different fields: logistics, industrial production and warehousing, warehouse management, access control, drug and patient tracking, retail, sports timing, NFC, aviation and automotive production, libraries, etc. Uses continue to expand into new industries and sectors. Let us know how RFID laundry Tags to track in our daily life ?
Hotels, hospitals, baths, and professional washing companies are facing the process of handing over, washing, ironing, sorting, storing, and other processes of tens of thousands of uniform, linen sheets, towels, etc every day . a large number of work clothes, clothing, bed sheets, etc. handover, washing, ironing, finishing, storage and other processes have become management problems. It is a great challenge to effectively track and manage each item, the washing process, washing times, inventory status and classification of items.
JYL-Tech provides a wide variety of washable laundry Tags, for tracking linens, uniforms and other garments in various fields like Textiles, Retail Stores, Hospitals Linen & Inventory Management, Hotel Management, Bed Linen Management, Garment Inventory Management, Restaurants, Dry Cleaning Stores, Retail Stores, etc. These laundry tags are UHF and washable to keep the track record of washing cycles, garment age, etc.
Click below RFID laundry tags for your unique solution :
Fabric RFID laundry Tag
To fulfil a flexible, thin but robust and durable RFID laundry tag to firmly attached on linen or textile asset whole lifespan, the RFID tag need to be designed and produced in a special encapsulation.
Our Textile fabric laundry tags have obtained EECC (European EPC Competence Center)ATP certification. JYL-Tech laundry tags tested and ordered by more and more professional customers all over the world, and no negative feedback received yet in the last years. We are ambitious in this market, and more effort will be put to improve our laundry tags in both RFID performance and physical characteristics. We are proud of what we have achieved until now.
A serial of strict quality control and testing are deployed in every procedure of production, until the final package for delivery, all products are 100% strictly tested before shipment.
Silicone RFID laundry Tag
Silicone laundry tags are slim sized, flexible, soft and smooth, chemical-liquid-proof, heat and strength resistant tag with a robust RFID transponder embedded for suffering 200 times drum washing and heat drying, cleaning and ironing, it can be easily integrated on linens, blouses, towels, medical uniforms other textile materials.
Resistant more than 200 recycles industrial laundry
Suitable for washing, drying, dry cleaning and ironing
Heat resistant 200°C for 30 second
Flexible and small size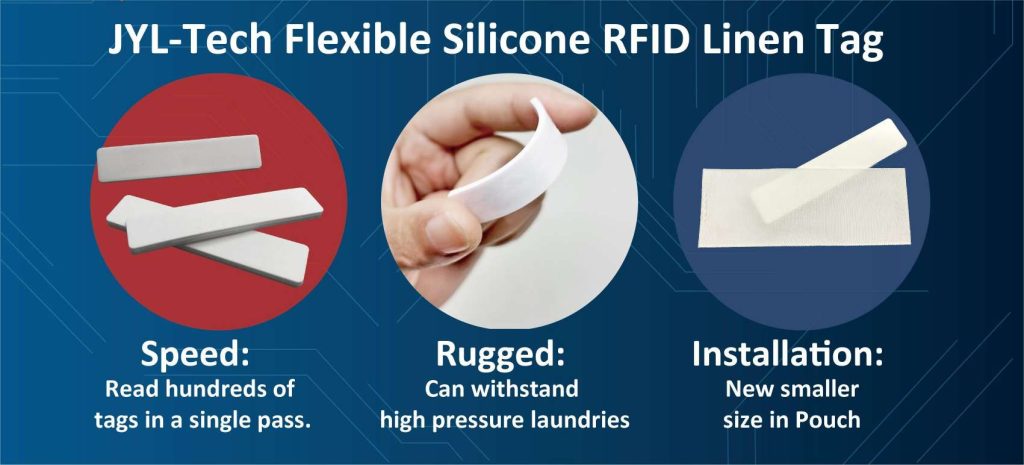 PPS RFID laundry Tag
PPS Button laundry tag is a classic type of RFID laundry tag with its small size and shaped in button for 15 years. It's twice injection molding design and suitable for harsh laundry environment by high pressure and 200°C head laundry processes for garment tracking.
Durable, waterproof, resistant to pressure and high temperature
Apply to heat resistant, high humidity, corrosion-resistant
Twice injection moulding technics
Simultaneous Identification of Tags
Exceptional temperature performance, oil, chemical solutions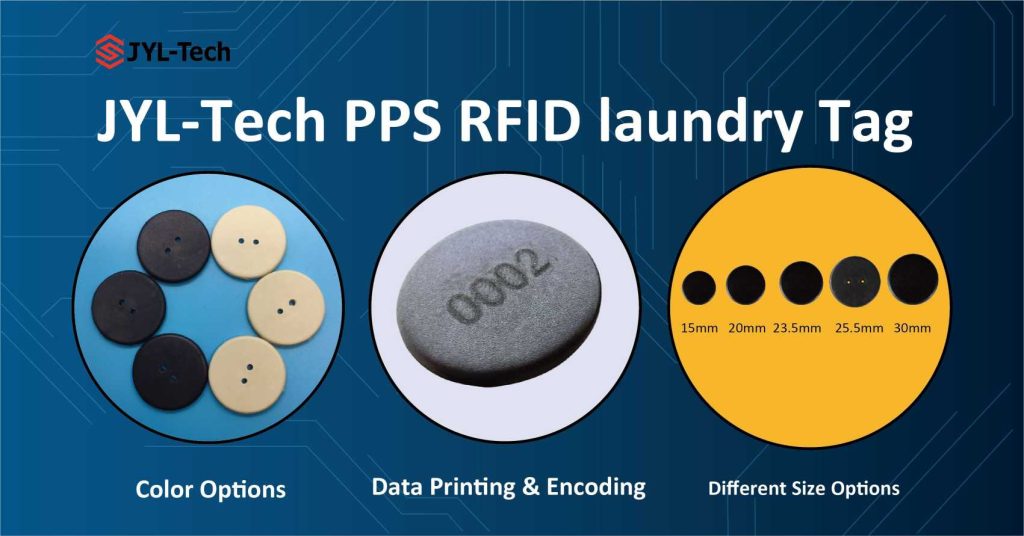 JYL-Tech can customize Washable laundry Tag to meet your unique requirements for chip type, size, programming and materials. Contact us to learn more about JYL-Tech full line of solutions for various Washable Laundry Tags .
Contact Form
We can help you?
Find the RFID product or solution that meets your business needs. Ask us to help you find the right decision.
Share this page