Apparel and footwear brands and retailers are the first to integrate RFID tags / RFID Apparel Tag and digital identity to every product to optimize the consumer experience and drive further conversions. From a brand and retailer perspective, key metrics are improving inventory accuracy and brand safety to create a more satisfying Omni-channel shopping experience focused on maximizing convenience and usability .
How to choose RFID tags for clothing retail?
To purchase RFID tags for apparel, you must first consider the characteristics of the environment in which they must operate and the goals achieved in order to select the right tags for optimal RFID system performance in your business.
If your company is in the retail apparel industrial, you should find the best tags for your garment, RFID tag size, distance and read speed, are the three basic aspects to evaluate, besides other variables such as the physical environment RFID systems will be in implemented therein.
Consider these conditions, RFID tags are required for excellent logistics management of products which it can optimize asset management in the supply chain, logistics and real-time supply and updating of inventory.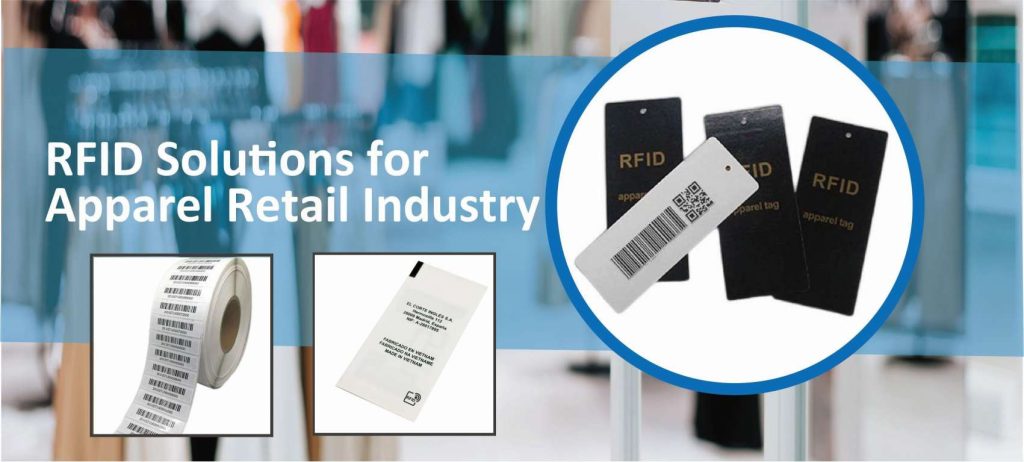 We offer RFID label stikcer, RFID hang tag and RFID woven label formats to enable you to choose the right product for your garment tracking application.
Excellent read range and proven product in the real world by implementing on many garment tracking solutions.
Can be used on linen, cotton, wool, towels, uniforms, overalls, mats and mops, surgical gowns, any other garments that require tracking and can be applied directly.
Compared with active tags, HF and RAIN(UHF) passive tags are less expensive to track clothing.
RFID tags for clothing can be used to automate and prevent theft while reducing the cost and complexity of the associated process.
Click below RFID Apparel Tags for your unique solution :
IC options:
UHF 840-960Mhz :
– Alien Higgs, Monza 3, Monza 4D, Monza 4QT, Monza R6, Monza R6-P, Impinj M730 ,Impinj M750 etc.
JYL-Tech can customize RFID Apparel Tags to meet your unique requirements for chip type, size, programming and materials. Contact us to learn more about JYL-Tech full line of solutions for various UHF RFID Tags .
Contact Form
We can help you?
Find the RFID product or solution that meets your business needs. Ask us to help you find the right decision.
Share this page