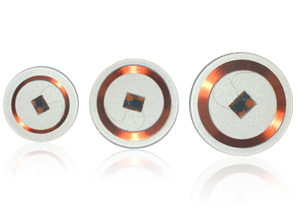 Clear RFID Disc Tag, The surface is transperant, and the back can be attached to the surface of the object.
With coil antenna being packaged inside very thin PET sheets, is a primitive form factor for tagging. It can also go with or without an adhesive backing.
Clear Disc tag used in access control, conference check-in, product identification, logistics tracking, biometric identification, item identification, industrial automation, one-card payment, etc.
JYL-Tech Clear Disc RFID Tag Specification :
| | |
| --- | --- |
| Item No. : | JYL-CDT15/18/20/22/25/26/27/30/32/35/38/50 |
| Dimensions: | Round 15/18/20/22/25/26/27/30/32/35/38/50 mm |
| Thickness: | 0.6mm |
| Frequency: | LF / HF |
| Material: | PET |
| Color: | Transparent |
| Options: | Adhersive / Programmable |
| Applicable Surface Material: | Non-Metal |
| Working temperature: | -20°~80° |
IC options:
LF 125KHz :
– EM4200, TK4001; T5577; EM4305; Hitag1, Hitag2, Hitag S256, etc
HF 13.56Mhz :
– ISO14443A: MIFARE Classic®, MIFARE® DESFire®, MIFARE Plus®, MIFARE Ultralight®, Fudan FM11RF08, etc.
– ISO18092: NTAG® 213, NTAG® 215, NTAG® 216, Topaz512, etc.
– ISO15693: NXP ICODE® SLIX, TI Tag it HF-I, ST LRI, etc.
JYL-Tech can customize Disc RFID Tag to meet your unique requirements for chip type, size, programming and materials. Contact us to learn more about JYL-Tech full line of solutions for various Disc RFID Tags.
Contact Form
We can help you?
Find the RFID product or solution that meets your business needs. Ask us to help you find the right decision.
Share this page