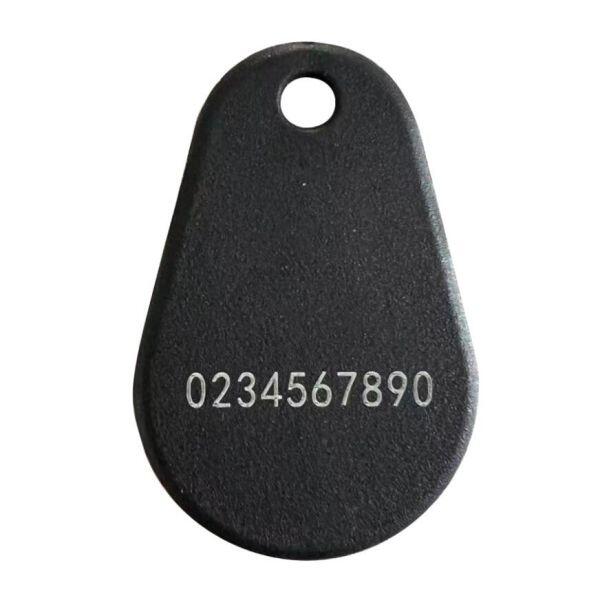 RFID overmolded Pear Keyfob is popular for its 100% water-proof, and sharp laser printing effect, It can works well with high performance in hard environment even if in Nordic extreme cold weather, making it more than just a keyfob. Same as RFID Glassfiber Pear Keyfob , RFID Overmolded Pear Keyfob is luxurious and fit for high-level market. 
We use high quality nylon material to the secondary injection of chip, forming thin and tenacity pear-shaped chip keychain, and support the laser code, code clear wear-resisting effect, even extremely cold areas use, can also be wear-resisting durable enough, because of the difficulty of the production process .
It is available with the most common RFID chip types in 125KHz, 13.56MHz on request. It can be also with hybrid dual chips requested .
JYL-Tech RFID Overmolded Pear Keyfob Specifications :
| | |
| --- | --- |
| Item No. | JYL-OP01 |
| Dimensions: | 45 * 30 * T 2.2 mm / 45 * 30 * T 2.6 mm (Dual chip type) |
| Frequency: | LF / HF / UHF / Dual |
| Material: | Nylon |
| Color: | Black |
| Craft: | Laser engraving/ Silk-sreen printing |
| Accessories: | Metal-ring / Elastic rope |
| Options: | Programmable |
IC options:
LF 125KHz :
– EM4200, TK4001; T5577; EM4305; Hitag1, Hitag2, Hitag S256, etc
HF 13.56Mhz :
– ISO14443A: MIFARE Classic®, MIFARE® DESFire®, MIFARE Plus®, MIFARE Ultralight®, Fudan FM11RF08, etc.
– ISO18092: NTAG® 213, NTAG® 215, NTAG® 216, Topaz512, etc.
– ISO15693: NXP ICODE® SLIX, TI Tag it HF-I, ST LRI, etc.
UHF 840-960Mhz :
– Alien Higgs, Monza 3, Monza 4D, Monza 4QT, Monza R6, Monza R6-P, Impinj M730 ,Impinj M750 etc.
Please contact JYL-Tech to customize RFID Overmolded Pear Keyfob to meet your unique requirements for chip type, size, programming and materials for People indentification .
Contact Form
We can help you?
Find the RFID product or solution that meets your business needs. Ask us to help you find the right decision.
Share this page