JYL-Tech provides electronic laundrychip, it enables users to accurately and rapidly identify, track and manage large amounts of textile assets such as bed linen, towels, robes, uniforms and workwear. Our RFID UHF electronic laundrychip have obtain EECC (European EPC Competence Center) ATP certification .
JYL-Tech had focused on RFID, Auto-ID, Smartcard technologies and industries almost 20 years. With a lot of efforts in R&D RFID and laundry purpose RFID tags, hundreds of serious testing in heavy laundry processes. Our laundry tags tested and ordered by more and more professional customers all over the world, and no negative feedback received yet in the last 3 years.
Our Electronic transponder not only survive over 200 wash cycles under below condition, but also with good stable performance :
– Washing: 90℃(194οF), 15 minutes, 200 cysle
– Pre-drying in Tumbler: 180℃(320οF), 30minutes
– Ironer: 180℃(356 ο F), 10 seconds, 200 cycles
– Sterilization Process: 135℃(275οF), 20 minutes
EECC (European EPC Competence Center) after test our tag and issue the ATP certification to evident our first class Electronic Laundrychip .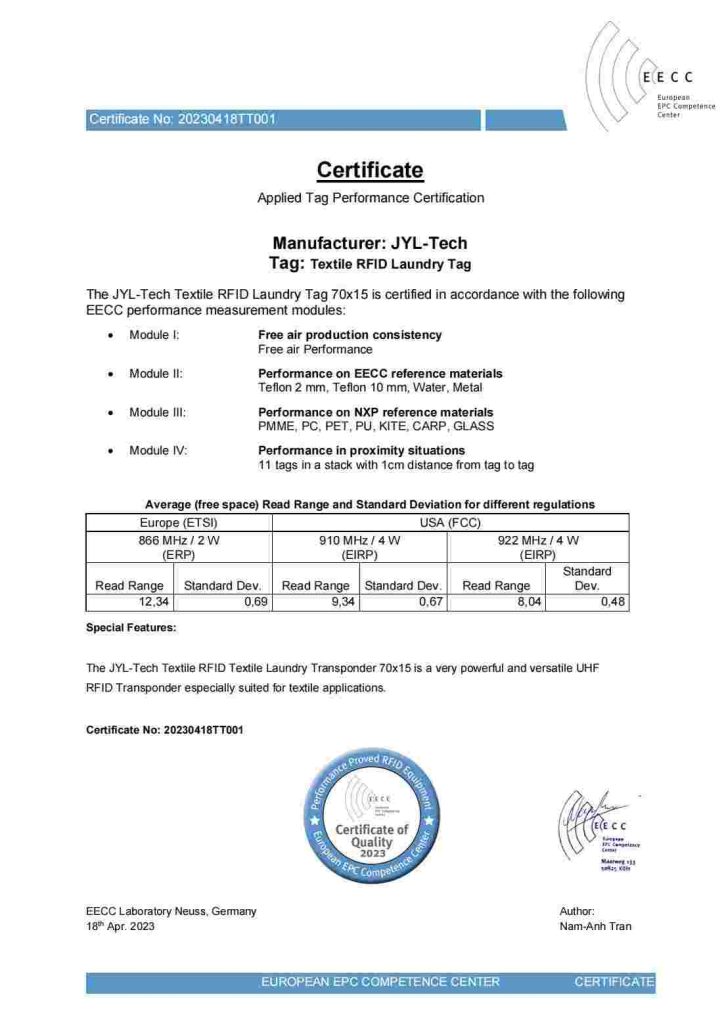 Electronic transponder can help your hotel, resort, healthcare facility or commercial laundry are experiencing the common linen management pain points including : lack of stock visibility, periodic shortages, poor linen quality control, wasted admin time and rising costs of linen losses. It enable close to 100% control of linen and uniform inventory by our customers, including laundries, hotels, casinos, resorts, hospitals and nursing homes.
JYL-Tech's linen and uniform Electronic Laundrychip enable used for multiple industries, including:
– Linen Manufacturers
– Commercial Laundries
– Hotels, Resorts, Casinos, Spas & Restaurants
– Hospitals
– Nursing Homes
– Institutions
We are ambitious in this market, and more effort will be put to improve our Electronic transponder in both RFID performance and physical characteristics. We are proud of what we have achieved until now .
Contact Form
We can help you?
Share this page